Charlotte startup BatteryXchange co-founder Desmond Wiggan talks growth plan beyond universities
By Symone Graham – Staff Writer
August 16, 2022, 11:07am EDT
Charlotte-based startup BatteryXchange is on a mission to serve users beyond a university setting.
BatteryXchange, a portable battery rental company formed in 2019, initially served restaurants and bars before realizing universities were more of a right fit. Now, co-founder Desmond Wiggan said that within the coming months he is looking to expand his product in the Carolinas further within the NFL, professional sporting arenas, travel industry and health-care sector. The local startup eventually aims to reach the entire country.
BLACK HEROES EP. 1 with Desmond Wiggan Jr.
HBCU DIGITAL | Black Heroes Ep.1 with Desmond Wiggan Jr. hosted by Shannon Cross
produced by Jennifer E. McCall
Desmond Wiggan Jr. is the Co-Founder & CEO of BatteryXchange, Inc, a HBCU grad of Winston-Salem State University. #ThisIsHome


Each episode of "Black Heroes" showcases some of the brightest HBCU alumni pushing the boundaries in corporate and creative spaces.


Inspired? You should be. The future belongs to you — and you could represent the next generation of black leaders in entertainment, business, technology and more.


So shoot your shot, and check out the AT&T Dream In Black Rising Future Makers contest for HBCU students. An extension of the AT&T Dream In Black platform's commitment to celebrating and honoring black culture and the creators who shape it.


HBCU students can apply or nominate an HBCU student they know for the chance to become a part of the inaugural Rising Future Maker class.


The 25 selected students will receive $5Gs presented by AT&T 5G, a tech package, access to celebrity advocates and more to power their possibilities. To learn more, check out att.com/dreaminblack
These 10 Groundbreaking Black Startups Were Founded by HBCU Grads
Samantha Dorisca.
Sep 29, 2021.

Desmond Wiggan and Aubrey Yeboah (Winston-Salem State University) – Founders of BatteryXchange
The portable battery rental company created in 2019, initially, serviced bars and restaurants. However, the pair knew their products would be essential at universities.
In 2020, the startup launched the Hercules kiosk, which features a 23-inch digital display to facilitate marketing and consumer engagement along with 24 portable batteries. The startup's latest product Apollo is a larger model featuring a 43-inch digital display accompanied by 48 portable batteries.
These tech entrepreneurs are now business partners with their HBCU. What's next for BatteryXchange?
August 17, 2021

For Desmond Wiggan and Aubrey Yeboah, co-founders of Charlotte-based tech startup BatteryXchange, a recent partnership with Winston-Salem State University was a full-circle moment.


The entrepreneurs and fraternity brothers are graduates from the historically Black university, and in August, inked a deal that brings their portable battery rental platform to the WSSU campus just in time for the start of the academic year.


"That's always been my dream to find a way to give back to the place where I gained my education from," said Yeboah, who earned a bachelor's degree in marketing in 2012.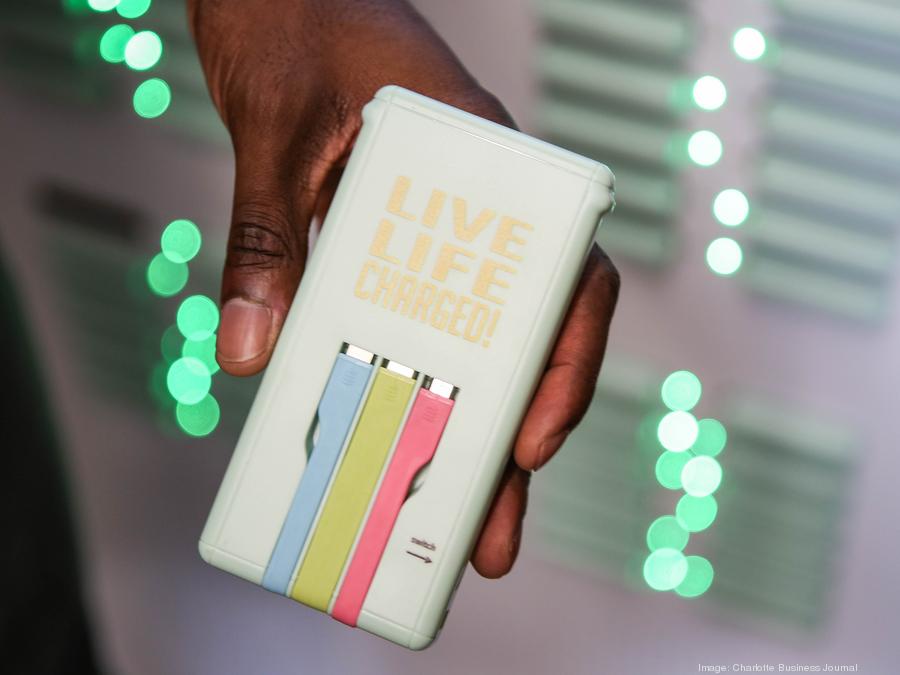 BatteryXchange installing its tech on campus of North Carolina university
By Elise Franco – Staff Writer
August 12, 2021, 03:30pm EDT
When students at Winston-Salem State University return to campus this fall, they'll have unlimited access to portable battery tech created by local startup BatteryXchange.

BatteryXchange was co-founded in 2019 by Desmond Wiggan and Aubrey Yeboah. The startup is a rental platform that provides rentable, portable batteries to cell phone users, Wiggan said.


He said the plan was in motion for months, and the startup inked a deal with WSSU last week. They are in the process of getting five kiosks installed throughout the campus grounds.
Charlotte's BatteryXchange charging forward with new Winston-Salem State partnership
by WRAL TechWire — August 11, 2021 
CHARLOTTE – BatteryXchange will install five battery-charging kiosks at Winston-Salem State University, as the two organizations have signed a partnership deal.
"Landing this partnership with WSSU is a dream come true," said Desmond Wiggan Jr., co-founder and CEO of BatteryXchange in an interview with WRAL TechWire. "We often think about times when we were in undergrad and the inconveniences that came from not having a convenient charger on-demand."
Defiance Ventures Announces Investment In BatteryXchange
by Defiance Ventures — May 24, 2021
Defiance Ventures, the Charlotte-based venture builder, today announced its investment in BatteryXchange, a vertically integrated portable battery rental platform.
"While we do not have a specific geographic focus at Defiance, we are excited when we are able to invest in the local Charlotte startup community," said John Espey, CEO of Defiance. "Desmond and his team are off to an excellent start and with a software-enabled platform like BatteryXchange, we see many opportunities to increase monetization of not only the data but the overall customer experience through software."
NC IDEA FOUNDATION Awards Total of $400,000 to Eight North Carolina Startups
DURHAM, NC – May 13, 2021 – NC IDEA, a private foundation committed to supporting entrepreneurial ambition and economic empowerment in North Carolina, announced today that the organization has awarded $400,000 in seed grants to eight North Carolina startups. Since its inception in 2006, the NC IDEA SEED grant program has awarded over $7.5M in non-dilutive grants to 169 innovative companies across the state, with these most recent awards being the 31st cycle of the program.
Cabarrus Center Provides a "Spark" Through New Grant Program
The Cabarrus Center for Innovation and Entrepreneurship may have just opened in March, but the first big "spark" of activity has already been underway for several months as aspiring entrepreneurs worked to secure grants through a new program, funded by the Flywheel Foundation and Truist Bank.
BatteryXchange installs first Apollo kiosk at 7th Street Public Market in uptown
Uptown Charlotte's 7th Street Public Market is now home to BatteyXchange's newest tech product, Apollo.
BatteryXchange, co-founded in 2018 by Desmond Wiggan and Aubrey Yeboah, is a rental platform that provides rentable, portable batteries to cell phone users. The startup launched Hercules at Packard Place last year, a kiosk machine with 24 portable batteries and a 23-inch interactive digital display for branding and customer engagement.
Just yesterday, Wiggan said the newest product, Apollo, a kiosk with 48 portable batteries and a 44-inch screen, was installed at the market.
Desmond Wiggan is charging toward the future with BatteryXchange
Wiggan sees BatteryXchange "making it" not only in the states, but also around the world. Wiggan is of Jamaican descent and Yeboah is Ghanaian. Both entrepreneurs have STEM programming experience in Charlotte, Washington D.C., the Caribbean and Africa.
"Our social responsibility is just as important to where we want to be on the capital side of this company," Wiggan said.
The Secret Sauce to BatteryXchange's Rapid Success
"If you have the opportunity to sacrifice a few months to get your startup to a certain point, do it," Wiggan encourages.
But the other piece to BatteryXchange's rapid success comes down to energy and authenticity.
"The people who have bought into it, have bought into it based on the motivation and energy we exude," Wiggan says. "Genuine people attract genuine people; I truly believe that."
Black-led startup, BatteryXchange crowdfunds for its on-the-go charging solution
"Once they are finished charging to their liking, they can find other kiosks to return the battery to," explains Wiggan, 29. "Our mission is to keep the world connected.The Charlotte-based startup is already drawing a lot of interest. The pair netted the $10,000 grand prize at this years City Startup Labs' annual pitch competition.
Why millennials should invest in tech.
"Coming from DC to China allowed me to immerse myself into a different culture and environment. That's what gave me the initial spark to build something of significant value outside my comfort zone."  – Aubrey Yeboah
STAY CHARGED WITH BATTERYXCHANGE
"Your cellphone is your lifeline," says Wiggan. "It's how you stay connected with work, your friends, your family." BatteryXchange provides an on-demand business for bars or retail stores, who pay a monthly fee to get a battery kiosk in their establishment. Customers can rent and use a battery pack as they drink a beer or browse the merchandise.
Interested in interviewing our team?
Don't be shy, let's connect.